Strategy 2021+
For the Empowerment of all Women
Scroll Down
---
The Situation
Women are structurally disadvantaged and discriminated against in all areas of life. In many places, they have no access to education, careers or social participation and are unable to exercise their rights for themselves. Around the world, women are suffering in greater numbers and more systematically from sexualised and gender-based violence – particularly in conflict regions. Women and girls who have suffered abuse are often excluded from their communities, driven into poverty and left with no home, no rights and no protection.
Regardless of the political achievements for women – such as at the level of the United Nations – the power relations between the sexes are anything but balanced. Together with other social inequalities, they shape social institutions, family, state and even partners.
For a number of years, conservative and fundamentalist factions in churches, societies and states have been trying to push back on the women's rights that have been achieved so far. Their aim is to end the participation of women in the economy, politics and society – in short: their right to self-determination and gender equality.
---
Our Vision
Everyone should be able to lead a dignified and self-determined life – irrespective of their gender. Women need greater freedom for this. They will then be able to actively shape the development of their societies and countries – for their own benefit and for the benefit of democracy and the freedom of all.
Gender-based and structural violence and repression have no place in enlightened societies. Therefore, it is important to recognise the structural patterns of inequality faced by women in comparison to men and to dismantle the repressive structures. We contrast anti-feminism, as expressed in radical right-wing, anti-democratic and intolerant ideas, with the self-determination and social and political participation of women and women's organisations – these must become the norm.
The empowerment of (young) women is a particular focus for us. They should be able to demand their rights confidently and grow into leadership roles within their societies. Global cooperation between organisations and defenders of women's rights is essential for this.
Violence against women and girls as well as sexualised and gender-based violence must be visibly condemned and fought against. Women and girls affected by violence – especially in conflict zones – receive protection and safe spaces for the necessary and comprehensive healing and rehabilitation.
---
Hien Khuong Thi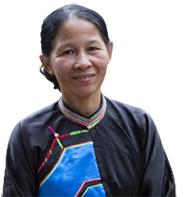 "Since the women's union in our village started a project for small animal breeding, my life has changed completely. Normally the men decide everything. They also earn the money. Through our meetings I have become much more confident. I have learnt so much! I now breed chickens and have set up a business supplying food. It's going really well."
Hien Khuong Thi (50), small-scale farmer from Bai Kinh/Vietnam
---
Our Way
We support women and women's rights organisations in standing up for their own rights and forming networks.
We promote equal access to education for girls and young women. They are encouraged and empowered to contribute and to take on leadership responsibilities.
We are especially committed to the protection of women, girls and children fleeing violent conflicts and wars. Together with churches and church-based networks, we are providing increased support for medical and mental health services for victims of sexualised and gender-based violence.
We promote culturally sensitive critical examination of male-dominated structures of power. A key element of this involves working with men on their role and gender perceptions.
We support the development of the churches' theological positions on equality, gender justice and violence against women. We support churches and church-based partners in their role as change agents.
---
---
Download
For a life of dignity - Strategy 2021+
Our Strategy 2021+ outlines the challenges we are currently facing, the changes that are needed and what we as Brot für die Welt are committed to doing to make the transformation happen.
Download (PDF)
---