Strategy 2021+
For a World without Poverty and Hunger
Scroll Down
---
The Situation
In many countries around the world, economic and social inequality is worsening. Although the number of people living in extreme poverty had fallen to around 10 per cent of the global population in recent decades, lately this success is eroding. Large sections of the population in the countries of our partner organisations still live below the absolute poverty line of 1.90 dollars a day – while at the same time extreme wealth is increasing.
The Covid-19 pandemic will drastically worsen the situation. The World Bank predicts that the current loss of jobs and income will completely dwarf the impact of the financial crisis. The United Nations is also warning of a new food crisis of historic proportions. It fears the number of people in extreme hunger worldwide will double. Declining production in agriculture and speculation in food prices are just two of the reasons for this.
Poverty and hunger are a particular problem in rural areas, where the livelihoods of many families, especially of small-scale farmers, are increasingly at risk from the impacts of climate change. This loss is being exacerbated by the uncontrolled expansion of industrial farming and mining.
More and more people are being forced to migrate to the cities but often experience undignified living and working conditions there and plunge deeper into misery. This is because increasingly aggressive competition for resources and unequally distributed opportunities on free markets lead to more and more people being classed as 'redundant'. This has an impact on migrants as well as all population groups affected by poverty and exclusion. They are increasingly being forgotten by policymakers.
---
Our Vision
Brot für die Welt strives for development that enables sustainable livelihoods for all and secures future prospects while respecting the limits of the natural environment. To "leave no one behind" is not just the Christian, ethical and political motive that drives everything we do. It is also a pledge that is enshrined in the United Nations 2030 Agenda for Sustainable Development.
No one should have to go hungry or live in extreme poverty anymore. Everyone must be able to exercise their universal human rights to food, health, education and social security – irrespective of their origin, religion or gender. This is the prerequisite for a life of dignity and self-determination. National and international policy must create the right conditions for this. The rights and the equitable participation of the population groups that suffer most from poverty and are structurally discriminated against and stigmatised are our highest priority. These include, in particular, indigenous peoples, small-scale farmers, people in conflict or disaster zones, refugees, migrants and stateless persons. They must no longer be denied the necessary support or be deprived of basic civil rights.
---
William Patrico Chunga Rojas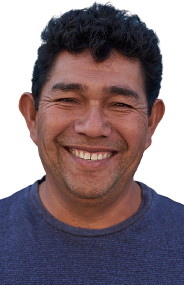 "When we began growing bananas, we knew how to sow and to harvest, but we didn't know anything about how to work effectively together as a group, how to write a business plan, how to conduct negotiations. The team from the NGO Cedepas Norte taught us how to do these things. Now we organise our own cooperative."
William Patricio Chunga Rojas, small-scale farmer from Pueblo Nuevo de Colán/Peru
---
Our Way
We call for and support, together with our partners, innovative solutions for climate-friendly, environmentally and socially sustainable as well as regional agriculture and food. This also includes better access to social security systems and basic services, for example in healthcare, and greater resilience to severe emergencies, such as natural disasters and their social and economic consequences. Because overcoming hunger and extreme poverty requires new approaches. We work closely together with Diakonie Katastrophenhilfe in this area and are increasingly adopting approaches that link humanitarian aid and sustainable development cooperation (nexus).
We campaign more intensively on a political level for the development and expansion of social systems – especially for those affected by poverty in rural areas and on the margins of large cities.
We work systematically with partner organisations that are committed to opposing precarious employment, especially of women and children.
We support growing numbers of national and international advocates, networks and ecumenical initiatives in their work to end statelessness.
We step up our political campaigns to protect and promote the universal human rights and fundamental freedoms of refugees, migrants and internally displaced persons.
---
---
Download
For a life of dignity - Strategy 2021+
Our Strategy 2021+ outlines the challenges we are currently facing, the changes that are needed and what we as Brot für die Welt are committed to doing to make the transformation happen.
Download (PDF)
---